Home | Profile | Vehicle | Household items | What else ? | Contact



Being located at the crossroads of two continents (Africa & Europe) confers to CRIMA a strategic position in the today globalization. A rigorous organization, an ability to respond efficiently to the market demand and a high skilled staff allow
CRIMA
to design and produce high quality plastic parts (within an 850 gr. Weight). Founded more than 30 years ago, the company has recently acquired cutting edge facilities which made it able to transform classic materials (PP, PS, PEPD, PEHD) and technical polymers (loaded or not : P.A, ABS, P.MMA, PC, POM, TBE.)
The company also boasts a new fleet of 85 to 250 T Battenfeld
presses
, equipped with modern peripheral materials to keep a 24 hours production rhythm.
CRIMA carries out :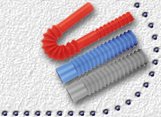 the plastic parts finishing as regards to ultrasounds welding, stamp or silk-screen printing.
extrusion services to produce ringed electric sheaths (Diam.: 06 to 55 mms) for the building, bathroom fittings and plumbing, electric household appliances, light devices and electrical looms protection (BANDERA OLMAS).

capillary irrigation pipes (Diam.: 16 to 110 mms) production as well as technical tubes such as pens refills, lollipops rods, cotton bud (BAUSANO, KRUPP BELLAFORM).

extrusion-blowing services to produce 0.25 to 2 L containers (in PEBD, PEHD and PP (SIDEL)).

cellular rubber splitting and cutting (FECKEN - KIRFEL).
Besides, CRIMA has also :

25 to 100T (BAUTAR) eccentric presses for various metal sheet cutting and stamping,
as well as folding machines and spot welding machines for the metal furniture industry.
fully equipped workshops for moulds maintenance and repair as well as
spare parts manufacture : turning, countersinking and correction, all controlled by
numerical process.

The company enjoys a quality system in accordance with the ISO 9002 standards and develops its creativity with a perfect control of costs and deadlines.
We have the means to satisfy you !

For further information, please feel free to use our customers' form.